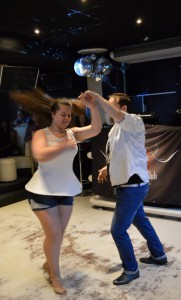 This is the class for those who have been dancing for a while and who have learned the basic steps of salsa together with a few simple combinations and who are now ready to move on. Whether you are ready for this class is up to the instructor.
Exact content may differ depending on the students' needs, but the generally covered topics include:
Review and development of the moves from the beginners Salsa course;
Acquiring creativity and confidence in Salsa: while becoming fully aware of the Salsa rhythm and beat;
Adaptation to different partners with different styles;
Rueda de Casino;
Learning of complicated patterns: increasing the number of moves and extending the amount of time before a pattern is repeated;
Learning a light leading, clear signaling, speed and timing;
Learning a variety of warm up/ Footwork/ Partner-work/ Shines and combinations in partner-work;
Cross body turns, half turns & advanced turns combinations, cross body lead advance turn combinations;
Introduction to double spins & multiple spins in partner-work combinations;
Introduction to Ladies Styling & Men's Styling.
Students can also expect the following:
Fun and positive attitude & sociable environment;
Stress relief;
Clear, easy to follow instruction;
Meet tons of new people.
Notice: you don't need to bring a partner to show up at our classes!
After the classes there is social dancing, where we play a rich selection of different genres like salsa, bachata, forró, merengue, zouk, reggaeton, etc. which gives you plenty of opportunities to practice and develop the newly learned steps.