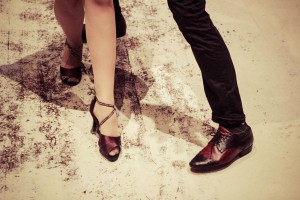 Course for those who have been dancing for a long time and have absolute control over the basic steps and different figures, easy ones as well as difficult ones. Here it is up to the instructor to evaluate whether you are ready to move on to this class. It demands a great deal of discipline along with a strong will to learn.
Exact content may differ depending on the students' needs, but the generally covered topics include:
Review and development of the moves from the intermediate Salsa course;
Developing dancing posture, as well as elegance and sensuality in Salsa;
Musicality, body movement isolations & spinning variations;
Acquiring creativity and confidence in Salsa, and develop your own Salsa combinations;
Improvisation in partner-work and footwork;
Rueda de Casino;
A high level of creative turn-pattern combinations, technique, speed & hand tricks;
Developed arm-styling & partner connection;
Enrichment of ladies' and men's style separately;
Tilts, jumps & 'finale' variations.
Students can also expect the following:
Fun and positive attitude & sociable environment;
Stress relief;
Clear, easy to follow instruction;
Meet tons of new people.
Notice: you don't need to bring a partner to show up at our classes!
After the classes there is social dancing, where we play a rich selection of different genres like salsa, bachata, forró, merengue, zouk, reggaeton, etc. which gives you plenty of opportunities to practice and develop the newly learned steps.