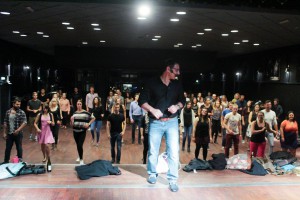 This is the starter course, thus – no dance background required! Exact content may differ depending on the students' needs, but the generally covered topics include:
Introduction to Salsa steps: basic step, front and back step, side step, openings and couple hold, hip movements for ladies and shoulder exercises for men!
Introduction to Salsa turns: right turn, left turn for ladies and men, variations of lead for the turns;
Rueda de Casino;
Cross body lead basic moves: exercises on following for ladies and leading for men;
Dance floor combinations; couple dancing.
Students can also expect the following:
Fun and positive attitude & sociable environment;
Stress relief;
Clear, easy to follow instruction;
Meet tons of new people.
Notice: you don't need to bring a partner to show up at our classes!
After the classes there is social dancing, where we play a rich selection of different genres of music like salsa, bachata, forró, merengue, zouk, reggaeton, etc. which gives you plenty of opportunities to practice and develop the newly learned steps.
Salsa Beginners Class Progression – Intermediates